Directions and Map
From either East or West Circle Drive, proceed along Circle Drive to South Circle Drive toward the Landfill.
Take the exit marked Valley Road.
JUST PAST the Saskatoon Landfill turnout, turn RIGHT off Valley Road onto Cedar Villa Estate road (look for a small green provincial sign).
Proceed just past the Chappell Conservation Marsh and turn LEFT onto gravel road 3062 (it's the only left gravel road before Cedar Villa Estates).
Proceed 0.7 km and you will see our orchard on your LEFT.
Please turn into our gate at the white fence on your LEFT.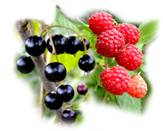 Contact Us At
Rhodes' Raspberries and Blackcurrants
RR3 Site 300 Box 45
Saskatoon, SK
S7K 3J6
(306) 934-6748
[email protected]